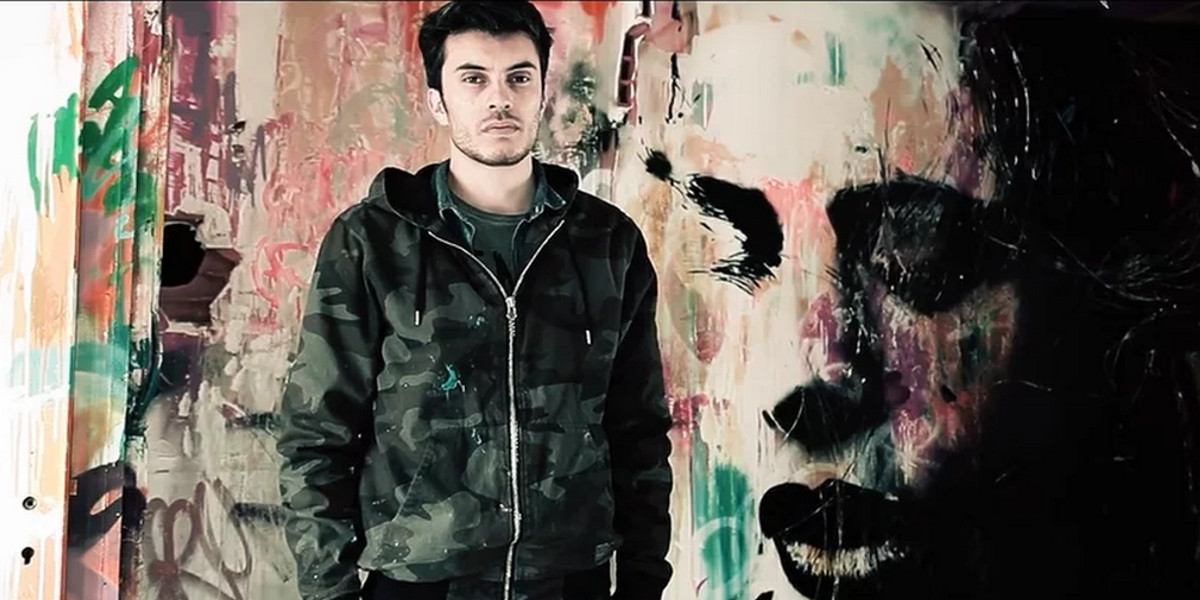 JM Robert was born and raised in Macon, France, and began painting at a very young age. Imitating the effects of patina, soiling and degradation that he observed on the facades of buildings. The facades inspire his abstract backgrounds in bright, flashy colors with sharp contrast along with black and graphical style of the women's faces that he paints on his canvases. Robert studied at MéRers d'Art in Paris majoring in graphic design and décor, where he learned and refined his technique, in particular, that of trompe l'oeil. The Pop Art (20th century) and Street Art (contemporary) movements inspire him. He prefers techniques such as graffiti & stencils that are brightly and slightly unreal. Gradually he has developed his own style: incisive & powerful graphics.
"The damaged façades of houses and buildings fascinate me. Since always, I feel strong emotions in front of deteriorated walls, degraded, ruins, it is my main source of inspiration."
Roberts paints poetic faces on abstract backgrounds.The work is characterized by a pictorial act in two stages. The bottom of the canvas should evoke the surface of deconstructed walls. He works the background with gradients effects and patinas, like the surface of an old wall. He uses a coating that he shapes scratches and scrapes until he gets the desired effect. Following that applies bright, fluorescent colors layer by layer. Unpredictable, they seep into the background and cracks of the canvas. The colors catch their residue and leave an unforeseeable imprint, an improbable trace on the canvas. He then outlines the shadow of a woman's face, anonymous and fragile. Drawn in pencil first and then with black paint, it is superimposed on the landscape. The design and color combine to create a portrait with a strong presence and a penetrating gaze.
I try to produce this impression felt against a wall in ruins that exposes his leprosy to the eyes of the passer-by. At the same time, it attracts us and disturbs us.
On Roberts canvases, colors burst into a myriad of fragments that no longer manage to be organize, or to find their meaning to take shape. As soon as they are deposited, they spread out and find impossible to form a representative pictorial image of reality. He seeks to reproduce only this gesture of destruction. The faces were sketched but did not have the time to form. Barely remembered and already their features vanished. It is also a trace, of an anonymous passage, a presence always fragile, precarious, always feminine. As in Pompeii, Hiroshima, the shadow of the bodies. Ruins are in general rich with contradictory, complex emotions. Roberts wants his painting to speak a contemporary pictorial language as it is expressed on the walls of our cities.
Beauty of France
"I am looking for my own aesthetic conception of ruin in the very limited and restrictive framework of the painting. For me, everything happens on the canvas as if drawing and color no longer managed to associate to make portrait. It is this impossible assembly, this dislocation that creates the picture, echoing our time."
To read more information visit his website or @jm.robert_official on Instagram.